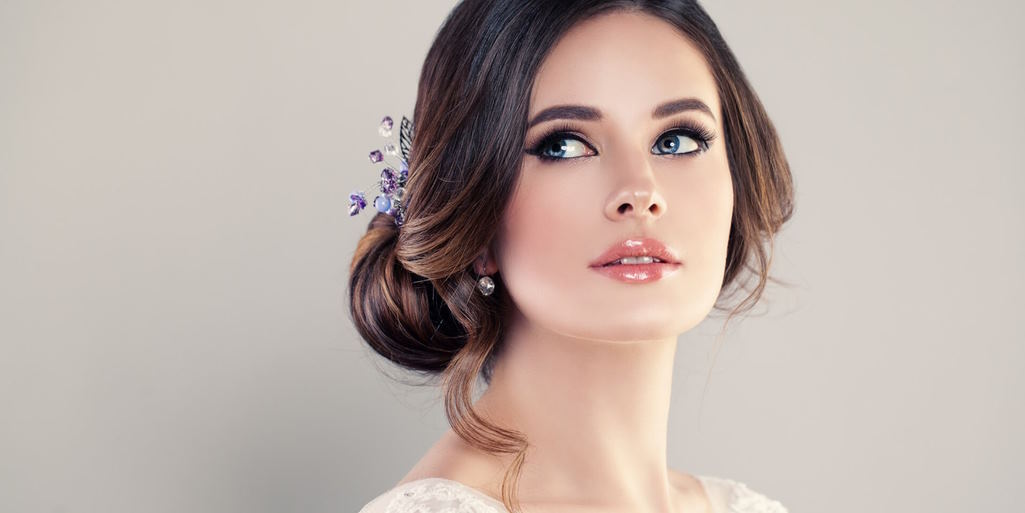 As a bride-to-be, you desire to look and feel your best on this special event. It's important to highlight that one of the key elements of your wedding looks is your hairstyle. It should complement the wedding style and your dress  as well as suit your hair type. Your hair type is one of the most important factors to consider when choosing a hairstyle, as various hair types require different styling techniques and products to achieve the perfect look. It can be a challenging task but a fun and exciting process with the right inspiration and guidance.
What hairstyles to choose according to my hair type?
For people with straight type
Straight hair has a smooth, sleek texture that reflects light well. If you have this type of hair, plenty of gorgeous wedding hairstyles can make you look and feel like a princess on your special day. The sleek and chic updo is one classic option, perfect for a formal or traditional wedding. Another option is loose, romantic curls, which can create a softer and more relaxed look. Finally, for brides who want a little more texture, braids can be an excellent way to add interest and depth to your hairstyle.
For people with curly type
This hair type is defined by its tight curls or coils. If you have naturally curly hair, you're in luck – plenty of stunning wedding hairstyles can make the most of your curls. One popular option is the half-up half-down style, which can create a romantic and elegant look without hiding your curls. Loose, bohemian updos are another option, as are loose, natural curls that can showcase your hair's texture and movement.
For people with wavy type
Wavy hair has an "S" shape and tends to be thicker than straight hair. This type of hair can be a versatile and beautiful hair type for weddings, allowing you to create a range of styles from bohemian to classic. Beachy waves are a popular choice, as they create a relaxed and carefree look that's perfect for a beach wedding or a more casual affair. Textured updos can be another great option, adding volume and depth to your hairstyle. Braids and twists can also help create a romantic and whimsical look that is perfect for a bohemian or rustic wedding.
For people with fine type
This hair type refers to hair that has a small diameter or circumference. If you have fine hair, you might be worried about finding a wedding hairstyle that will hold up throughout the day. But plenty of options can create a beautiful and lasting look. Voluminous updos can help to create the illusion of thicker hair, while textured waves can add depth and dimension to your hairstyle. Intricate braids can also be a great way to add interest and texture to your hair while keeping it in place throughout the day.
For people with thick type
This hair tends to have more volume and body than fine hair. Thick hair can be both a blessing and a curse when it comes to wedding hairstyles. While it can be hard to manage, it provides plenty of options for creating beautiful, striking looks. Sleek ponytails can be a great way to show off your hair's volume and texture, while loose curls create a romantic and whimsical look. Elegant buns can also be a great choice, allowing you to create a polished and sophisticated look that will last all day.